Through a contract's lifecycle, it's very common to see add-ons, which are documents associated with the main agreement. These instruments can be: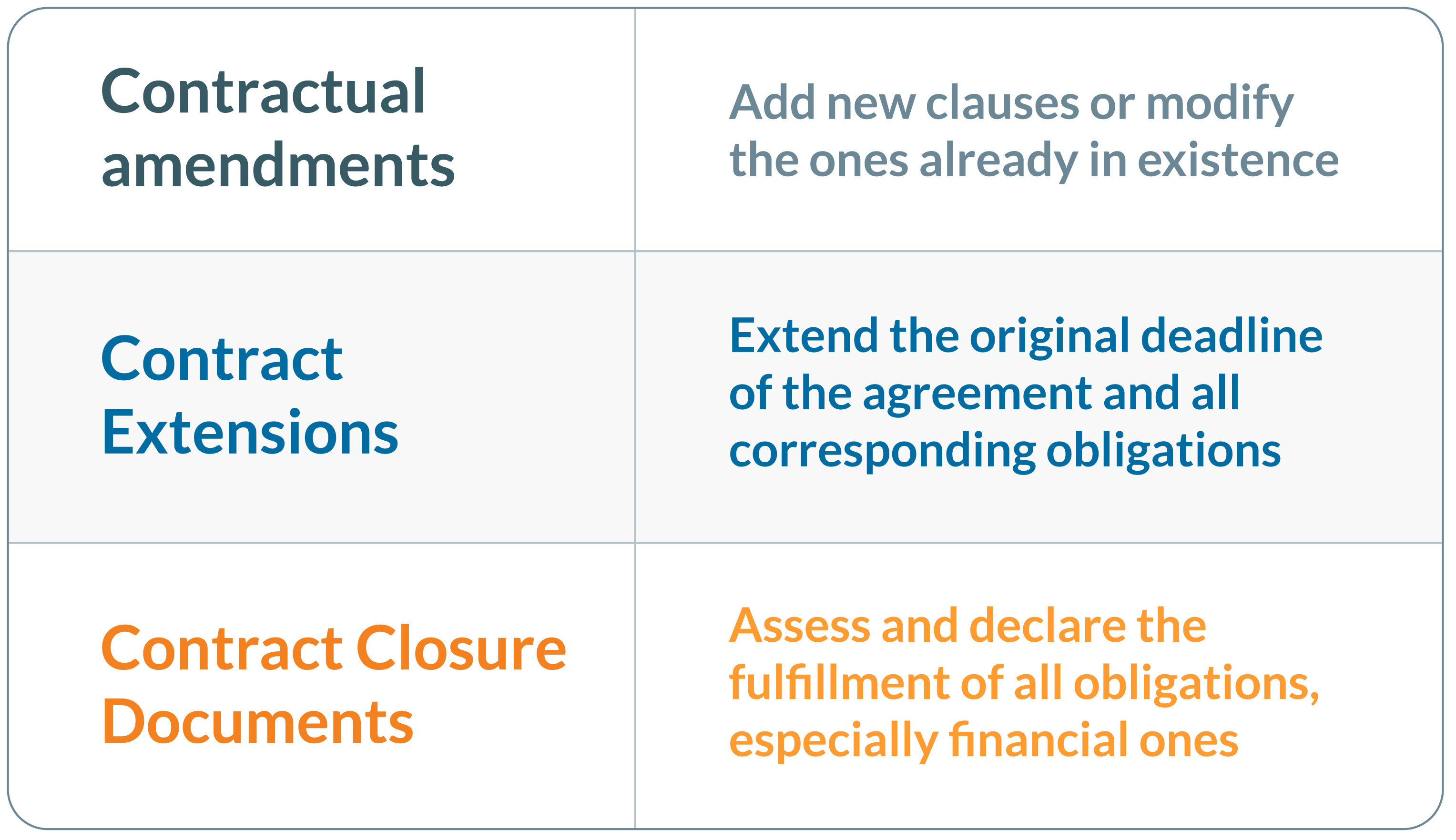 As ordinary as they are in daily business, these documents are not always managed in the most efficient manner available. Many problems are recurring, such as the loss of contractual amendments and:
Difficulty to locate the main contract;
Use of outdated or incomplete drafts;
Errors in the transcription of information contained in the original document to the new one, and others
Time spent in dealing with these obstacles creates serious risks to the operations, including:
Failure to update the clauses in time, resulting in situations of contractual imbalance;
Failure to review all agreements, creating risk of future litigation;
Doubt as to whether or not the obligations have been renewed, which may generate confusion in the Financial and Production areas of the company;
Missing the deadline to cancel a contract without penalty, forcing the company to choose between maintaining an agreement that it no longer desires or having the additional cost of paying the contractual fine.
These risks can be eliminated from your operations by investing in administration and technology. netLex, as a platform for document management, combines these two areas, generating value for your company.
In this text you will understand the five advantages of managing contractual add-ons through netLex.
1. Find all contracts in need of modification in an agile and efficient way
Every once in a while, a unique circumstance or event can have an enormous impact on several of the contractual relationships entered into by a company. That was the case, for example, of the COVID-19 pandemic, which provoked the need to massively revise deals trying to readjust obligations to the new context.
These moments place an enormous amount of pressure over your corporate attorneys.
It is necessary to find all affected contracts, prepare the add-ons, ensure that all of them are properly negotiated with their respective counterparties, monitor any content alterations and ensure timely signatures. Any failure in this dynamic implies a non-adapted contract, which will most likely be the subject of litigation in the future.
With netLex it is possible to locate all agreements made from a specific draft and structure an agile flow for creating add-ons. This functionality was fundamental in the pandemic context to many of our clients, allowing a quick reaction to the changes experienced by the business.
2. Automatic notice of contractual deadlines
netLex issues automatic notices when a contractual deadline approaches, opening the possibility of renewal or closure. In addition to the notification, this information is also available in intuitive dashboards.
Hence, you can put aside that feeling that you have a deadline coming up without knowing exactly which one it is.
3. Automatic extraction of information from the main contract
As supplementary documents, amendments, extensions and closures will invariably have information originating from the main contract. This is the case, for example, of data regarding the parties, deadlines and other important details.
If the original document was drafted within netLex, it is possible to automatically extract all this information, transporting them to the add-on with a simple "click". This saves your team from endless copying and pasting, as well as avoids errors in manual transcription.
4. Create documents via automated questionnaires
In addition to the specific details of the original agreement, new clauses will also be required in the add-on. With netLex, it is possible to automate document creation via intuitive questionnaires, through which all additional information is offered in a more efficient way.
This is one of the main features involved in contract lifecycle management. Learn more about this concept and how to implement it in your current operations in CLM: what is it and how technology can benefit your company.
Therefore, it is possible to avoid the use of outdated templates, as well as to limit the possibilities of interference with content previously structured by the Legal department.
5. Automatic Storage
Once the contractual amendments, extensions and closure documents are completed, it is essential that they are stored together with the main contracts. Failures in this regard are one of the top 6 most common inefficiencies in contract management.
When these instruments are not properly filed, collaborators may disregard a relevant modification or addition to the text of the agreement, not know whether the contract was concluded regularly or even if it was extended.
With netLex, these additional files are automatically linked to the original and numbered in sequence to simplify organization.
netLex: enhancing your document management
Managing contractual amendments, extensions and closure documents can be much simpler than what it is today. And much more secure too.
Achieving these goals involves combining the best of technology with the most consistent practices in contract administration. netLex, as a CLM platform, puts this combination at the service of your company, providing agility and assertiveness to your operations.
To see in practice how our software generates value for your organization, talk to our experts!