A
Hello! My name is Henrique Bossi and I am Customer Success Manager at netLex since 2021.
I apologize to those who were expecting a traditional thank-you text after completing a company anniversary, but this one will be a little different.
Please don't think I am dissatisfied or something like that. The business grows at every minute, my squad has doubled in size, it is still expanding and, besides that, the CS career expands through different specialities, so I am more than happy professionally.
Another perspective
However, I would like to offer another perspective on this clicle. My daughter was born on the 14th of November 2021. That is, even before my first day at netLex she already existed, and we found out this marvelous news a short time after I began to work.
I know it will seem silly to many of you, but making an announcement like this is not that simple. What is the best way to bring it up? I had just arrived and was not very intimate with my co-workers. "Should I wait a little longer?", "Do I ask for a meeting?", "Do I just tell people at one of our daily sprint meetings?".
Well, here we have the first surprise: my co-worker's reaction was incredible. I felt their shared happiness and genuine interest, and received many many questions. I felt extremely welcomed and reassured about the support I would have over the next few months.
The surprises along the way
But the surprises did not stop there. Some time later, I spent a lot of time struggling to understand the reason why the dresser's drawers would not fit at all (a first time parent's suffering), until I capitulated and called a specialist. He arrived early in a morning that was no further from normal.
We found out that the drawer challenge really wasn't that simple, and it took him a few hours to come up with the solution. At the same time, I was getting on with my work routine and reading myself for our meeting later in the morning.
Five minutes into the meeting, the intercom rings. My wife was following the dresser's saga, so I asked for a minute and ran to answer it. It was Amanda! Amanda who? From netLex's People Team!
I stopped for a second and my first thought was: "it is not possible that she came all the way here just to fire me!". In the meantime, she asked me to go downstairs with my wife.
Ok, so we had the assembly expert and the drawers, the meeting, the pregnant wife and the HR lady waiting for me downstairs. I asked Amanda for five minutes, the assembler was already organizing his tools and I asked my co-workers a bit more time at the meeting.
We all went downstairs and, surprisingly, we came across the "Unão do Faustão"*. Well, not exactly "Do Faustão". It was the affectionate nickname we gave to the car crammed with diapers - no exaggeration, there were diapers everywhere and even on the roof (the photo doesn't let me lie) - that had been financed by the entire company. The crowdfunding campaign gathered money to buy more than 2.000 diapers! That is right, TWO THOUSAND DIAPERS.

It is hard to explain what I felt at the time, because "gratitude" does not sound enough. I felt embraced by each person, most of which I have never seen in person and many that I had not even talked to.
And there is more!
As I have said, my daughter was born in november. However, we could not take her home in the days following the birth. Everything went well, she and my wife were fine, but she had a very common disease in newborns called jaundice.
We had to spend a few more days in the maternity ward, a total of six days before she could go home. Maybe you don't know, but in Brazilian law, paternity leave is for five calendar days, so how could I do it? Did I work at the hospital? Did I spend my overtime bank? Did I ask for a few days of leave?
I know that the volume of diapers we were given was something extraordinary, but the best gift I could have ever received was a full month of paternity leave - a benefit granted to the entire company. I will be forever grateful for those thirty days, as I was able to be there for my wife and child in this extra period in the maternity ward, to take my daughter home, give her first bath, and present her the room that we had set up with such affection. Together with my wife, I could face all the challenges of the first weeks of a person's life in this world.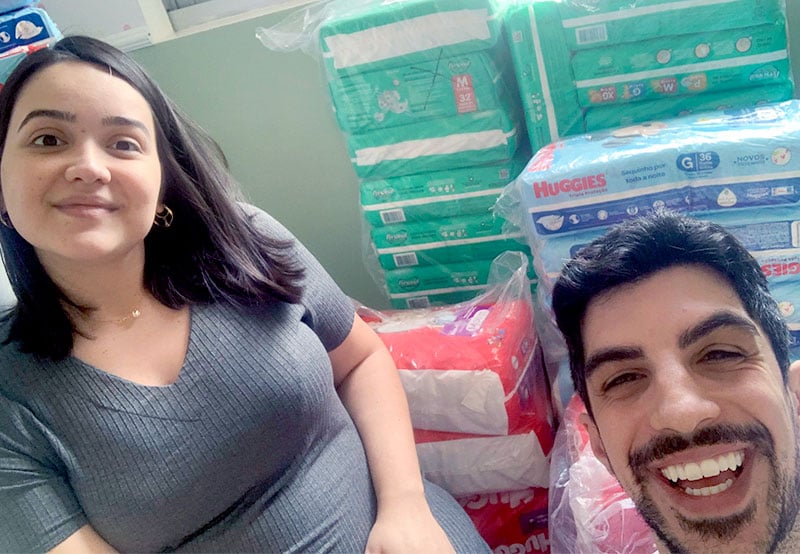 It is something that cannot be measured, it is priceless.There is no way to repay something so precious.
A thought
I know I was privileged and that there are not many stories like mine, but what I wanted to leave as a reflection is: why not? Why is this not a common practice in the job market? Why does the absence of an employee for thirty days generate such a huge repercussion for companies? There are certainly several reasons, but only I know the enormous impact it had on my family that I was able to closely monitor my daughter's first thirty days. So, if this text helps any other parent to experience this blessing, I am already satisfied.
Thanks again, netLex. A strong culture defines a company and makes it reach unimagined milestones.
*Faustão is a Brazilian celebrity famous for his Sunday night television show in which he often gifts people with trucks full of house appliances. He is an equivalent of Oprah, if you will.